Friends of Dishforth School
Silent Auction of Promises
2022
The lots are all in and we have 49 super promises.  Closing date for your bid/s to be in is Friday 17th June 2022 at 3.30pm.  For more information contact admin@dishforth.n-yorks.sch.uk or visit the Friends of Dishforth Page under News.
Krispy Kreme Doughnuts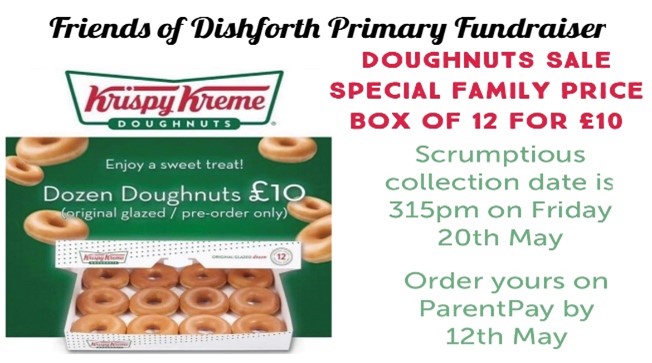 Friday 27th May – Platinum Jubilee

We are holding celebrations in school to mark the Queen's Platinum Jubilee of Friday afternoon. Please bring your own chair/rugs to sit on, we are hoping for some lovely sunshine. If you would like to donate any cakes/tray bakes, please bring them in on the morning.
Ice Lolly Fridays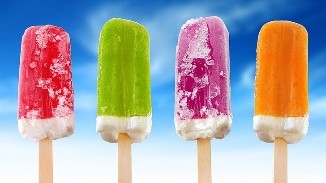 Starting after half term, Friends of Dishforth will be selling ice lollies at 50p in the playground (weather permitting).
Class 3 Residential – June
On the 7th to 9th June Class 3 will be heading off on their class residential to High Adventure.  We are sure they will have a great experience.
DATES TO REMEMBER
Monday 13th June
EYFS Balance Bikes
Friday 24th June
Training Day – School Closed
Monday 27th June (afternoon)
Year 6 Leaver's Service – Northallerton
School Car Park
I have been in touch with the Strategic Planning Officer for North Yorkshire County Council to confirm arrangements for the new school carpark. The Council will contact Strata Homes in the first instance to get timescales from them for when they propose to complete the car park. I shall communicate any updates I receive through future newsletters.
Thursday 30th June
Year 5 Enrichment Day at Thirsk High School
Wednesday 20th July
Year 6 Leavers Service in School – parents welcome
Friday 27th July
Break-up for summer holidays at 2.30pm (no after school club)